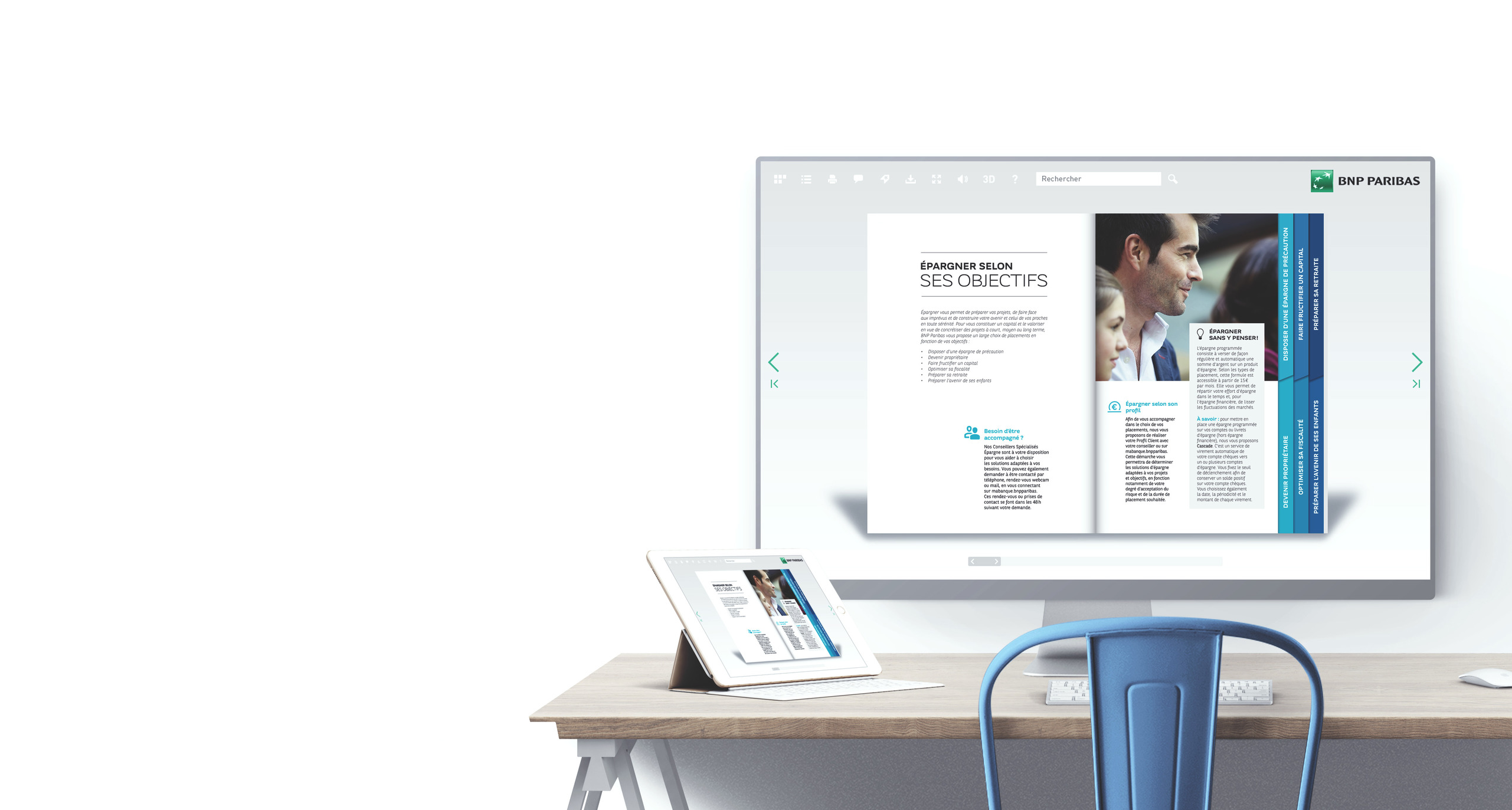 Discover all the features
Over the years, Fluidbook has become the leading name in the interactive catalogue sector. A Fluidbook is a unique, universal multimedia publication. A made-to-measure, all-inclusive service.
After delivery, the files are hosted on your server so you can use them as you choose, without a subscription or time limitations. We can also provide custom enhancements including videos, animated graphics, custom tabs, etc. Discover all our services!
Try the Fluidbook demo
Standard Features
Multi-platform
Responsive web design and HTML technology, fully compatible with smartphones. Automatically adapts to PC, Mac, smartphones and tablets.
Optimised loading
Fluidbook loads each page separately and continuously. This means that while you are reading a page, the next pages are being loaded in the background.
User-friendly design
Flick through your documents by turning the pages over or by using the arrows.
Easy to install
Fluidbook can be installed on any server and does not need a database. Just transfer your files via FTP and that's it!
Full screen mode
Whatever the size of your screen, Fluidbook will display your publication in the largest possible format and it can be enlarged by using the full screen button.
Scrollbar
Navigate easily to the page you want using our scrollbar, which has built-in preview thumbnails for each page.
Ultra fast zoom
With just one click you can zoom in on any part of the page to expand to full screen. Simply use the mouse or your finger to move around the page.
Index with thumbnails
With a simple click, you can view the page spreads as a series of thumbnails and from there, directly access any page that interests you.
Personalised printing
You can print all or part of your Fluidbook in single or double page format at any time.
PDF Export
You can download your publication in PDF format at any time.
Real-time 3D interface
Unique 3D HTML5 technology enables realistic visual browsing.
Personalised index
The rolling index is a true table of contents which gives direct access to the different pages of your Fluidbook.
Search engine
Start typing a word and Fluidbook will suggest and underline results on each page.
Active links
All the links in your brochure to web pages or email addresses are functional in our system and are tracked by the integrated statistics tool.
File Downloads
Your Fluidbook can include any type of file. With a simple click, viewers can download a logo, a press release or a collection of high-res images. All file formats are compatible.
Advanced bookmarks
Place bookmarks on the pages that interest you and come back to them with just one click. You can also print or download these pages in PDF format.
All-inclusive
Services
Personalised graphical interface
Your graphic charter, including colours and fonts, is reflected in the carefully adapted interface of each Fluidbook to create seamless communications.
Assistance
We are there to help you at every stage of your project, from the creation of the PDF file to the installation of the deliverable files on your server.
Natural indexing
All the text in your Fluidbook is retrieved for natural indexing by the major search engines such as Google and Bing.
Fluidbook statistics
With the integrated statistics tool you can see how many people have viewed your Fluidbook, which pages interested them most, the words they searched for and more...
Google Analytics
Fluidbook works with Google Analytics and Google Tag Manager (GTM) to give you access to one of the most powerful free statistics tools on the market.
Multilingual
With a small parameter in the URL, the interface changes to the language of your choice! Fluidbook already exists in 23 languages and new languages can be added as required. We offer full support for right-to-left reading modes.
Mini Fluidbook
We will also send you a small animated version of your brochure to put on your website.
Offline version
In addition to the web version, we will also deliver your Fluidbook in CD-ROM and USB key format to send to your existing or prospective clients.
Enhancements and
optional features
Videos
Your Fluidbook can contain videos embedded in its pages or display them as pop-ups. Just provide us with your film in any format and we will take care of everything else.
Slide show
You can integrate high definition slides into your publication.
Hosting
Would you like us to host your Fluidbook? No problem, our dedicated server will host your Fluidbook in the best possible environment.
Tabs
The tabs on the side of your Fluidbook provide direct access to the different sections.
Sound, Podcasts, Music
Add some music, a podcast or a specific sound - anything is possible!
Secure access
Publish your magazine online and limit the access to your subscribers! We can also disable the print and download functionality at your request.
Made-to-measure animations
To bring your pages to life we can create custom animated graphics and headings. Tell us what you want or let us make some suggestions.
E-commerce
A shopping basket can be embedded in the pages of your Fluidbook!
Audio description
With the audio description feature, Fluidbook reads each page aloud, making your publication accessible to the blind or visually-impaired.
Library View
Present your publications as a library and offer your readers a single page containing all your catalogues, magazine archives, user manuals etc.
Zoomable Areas
Highlight an area of the page, a graphic, an image... which will open as an enlargement with a single click!
E-learning
Fluidbook supports the SCORM standard: your publications are compatible with your e-learning system, allowing for example, users to know which courses they have already completed and to resume a previous lesson where they left off...